Charge Cares partners with our communities to drive fundraising and volunteer efforts specific to supporting health and wellness, education, veteran initiatives and employee hardships
Our Vision
Through organized fundraisers and fun team-building activities, Charge Cares is a catalyst for employees to come together and give back for the betterment of others. Together, we can do more and have a lasting positive impact on the communities where we live and work.
Our History
Founded in 2020 during the COVID-19 pandemic, Charge Cares was initiated and funded by employees who wanted to help families experiencing financial hardship due to the pandemic, as well as show appreciation to healthcare heroes on the front lines working to keep us healthy and safe.
Thanks to the generosity of the Charge family, Charge Cares raised nearly $3,950 during its inaugural fundraiser. Nine nominated families received $200 grocery gift cards. Frontline healthcare appreciation gifts included 1,200 cookies and 400 donuts, which were delivered to nine different hospitals in Alameda, Contra Costa, Kern, Orange, San Luis Obispo and Solano counties. By the end of 2020, a total of $35,736 had been raised through three different  fundraisers, benefitting a total of 22 families, 10 nonprofit organizations (details below!) and 11 hospitals.
Multiple fundraisers are now being planned throughout the year, so please continue to check this page for new information on ways to participate.
Nominate a Family or Nonprofit
Each fundraiser includes an opportunity for employees to nominate a family undergoing financial hardship to receive a $200 grocery gift card. The remaining funds will be split between the causes, which rotate often in order to have a wider impact.
We want to hear from you! As an employee-driven initiative, it's important that everyone who contributes has a voice in where the donations are sent. Please send nominations to chargecares@chargeEPC.com.
Charge Cares Popular Fundraisers
ReCharge Spring Fundraiser  
A fun way to power up in spring with Charge Cares! This fundraiser provided employees several ways to recharge their health, heart and sprit (and possibly their wallets!) by participating in fun events aimed at raising money in celebration of Earth Month and continuing to help others in our communities. Funds raised benefitted the California Coastkeeper Alliance.
Events include:
Sustainable Cow Plop Bingo – 2 boards!
Aim High and Low Roller Plinko – 16 winners!
ReCharge Step Challenge – All entered!
Coworker and Boss Appreciation Gifts – who are you grateful for?
NEW! Charge Cares Swag – portion of sales will be donated!
Holiday Pie-A-Thon  



Charge leadership stepped up to the plate, literally! Through this fundraiser, employees could purchase votes toward a pie in the face of senior leadership and supervisors at every level; $500 bought an "Instant Pie" with choice of target and immediate delivery.
Between the pandemic and a catastrophic fire season, there were a lot of families who didn't get to celebrate the holidays as usual in 2020. This fundraiser was for them; to help brighten their season. Charge employees raised nearly $13,000 to purchase toys in support of seven different local holiday toy drives and "Adopt-a-Family" programs, including the B-ME Foundation. It was an amazing success and we caught it all on video! 
Water Balloon Blast  
Charge Cares kicked off summer 2020 with Water Balloon Blast Fundraiser and company leaders were on the line as targets! This epic balloon battle took place in the Benicia yard and was broadcast live through Facebook.com/ChargeEPC.
Interns get involved! Balloons were launched by hand and through machines engineered and constructed by five summer interns as part of a group challenge, providing them with real-world experience of taking a project from inception to completion.
Side bets! VPI, VPC, and the office waged a friendly competition to see who could raise the most funds. The group who raised the lowest funds took on some targets as well!
During times when things seem especially serious and complicated, it's important we come together to have a little fun and de-stress. This was our chance to do that while spreading a little goodness at the same time.
Results
Through this fundraiser, the Charge family raised $9,747, which was matched by the company for a TOTAL OF $19,494. The donations were split between nominated families impacted financially by COVID-19 and five nonprofits: American Veterans for Equal Rights, The Trevor Project, Equal Justice Initiative, Human Rights Campaign and the NAACP Legal Defense and Educational Fund. Thank you to all who contributed to this event!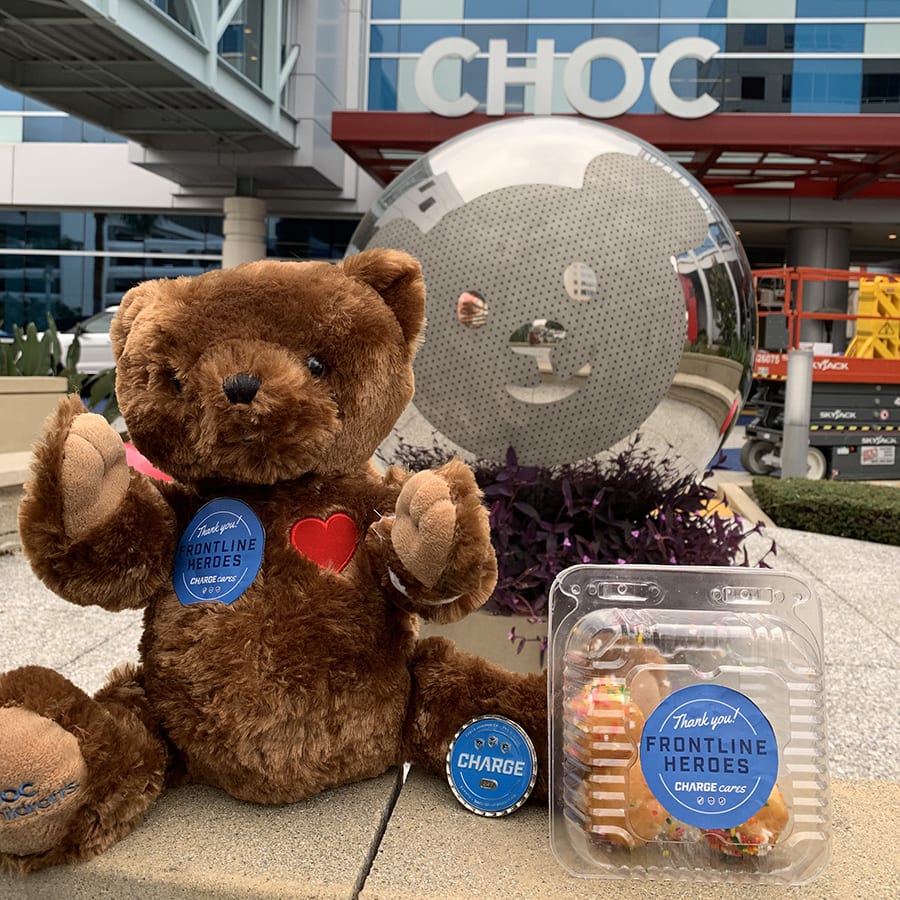 Aim High With Charge
Aim High is an annual benefit hosted by Charge to benefit the Taya and Chris Kyle Foundation (TACK-F). Through powerful programs and life-changing experiences, TACK-F helps military and first responder families not only survive their service but thrive. Employees and industry partners support Aim High through sponsorships, participating in the 20-station sporting clay competition, and volunteering at the event. All funds raised go to TACK-F to help them achieve their vision of stronger, more empowered marriages and families. Together, we have raised an accumulative total of more than $535,000.
Save the date! The 7th Annual Aim Sporting Clay Shoot Competition is slated for Saturday, Oct. 7, 2023. We hope you will join us or consider donating to help reach our goal of raising $75,000 for the TACK-F mission of "Service Families Strong."
Learn more about how you can get involved and support this event at AimHighwithCharge.com or by emailing aimhighevent@chargeEPC.com.